About F series storage cage, which models do you know?
The
storage cages
of the F series are mainly divided into storage cages for the wine industry and storage cages for the preform industry, as well as some other models.
Wine industry
Wine bottle & Barrel storage solutions. These products are mainly designed for the European market and are also very popular in other countries. World-renowned wine-producing areas such as France, Australia, Chile, South Africa, and other countries are using wire cages for storage and transportation. The bright electro-galvanized surface treatment is not easy to rust and increases the life of the cage. Each cage is designed according to the size and shape of different wine bottles, which is convenient to use. Corresponding to different types, find the cage model that suits you.

PET industry
PET industry storage solutions. These cages vary in size, weight, design, etc. You can contact our professionals to choose a cage model that suits you. We also support customization according to your needs.

The raw material we use is low carbon steel q235. As you can see, it is composed of 4 latches and has a half-open door design, so when your cage is full and stacked, the door can be opened, making it easy to put in or take out items (F11, F22, F28, three models) except). Limit wire structure, the stacking is stable; the forklift channel can be used with the forklift, which can be easily or moved; the front door or the back door welding signs help to distinguish the goods and facilitate the management.
We also have 3 kinds of surface treatment methods, electroplating zinc, hot-dip galvanized, and powder coating. Different surface treatments can be applied to different use environments. For example, if you choose hot plating, the storage cage can be used in cold storage and can be used for a long time, depending on your choice. Compared with the other two surface treatments, if you choose sprayed surface treatment, it can help you save more costs. In addition, we have our own spray production line, you can customize the color you want, just tell us the color number. If you have other requirements, we also support customized services.
We also provide other designs. You can add pp panels, forklift channels, stretch panels, wheels, screens, bags, top covers, stiffeners, signs, etc. inside. We provide wheels made of PP, PU, and nylon. You can choose the material you want. The size of the wheels can be customized to 4 inches or 5 inches according to the load-bearing requirements.
The main features of our products are foldable, durable, and stackable. When not in use, it can be folded up to save space. All of our storage cages can be stacked 4-6 layers, which improves the space utilization rate and can help you increase the storage capacity of the warehouse. Assure you that our products can be used for up to 5 years, helping you save a lot of costs.
Available Designs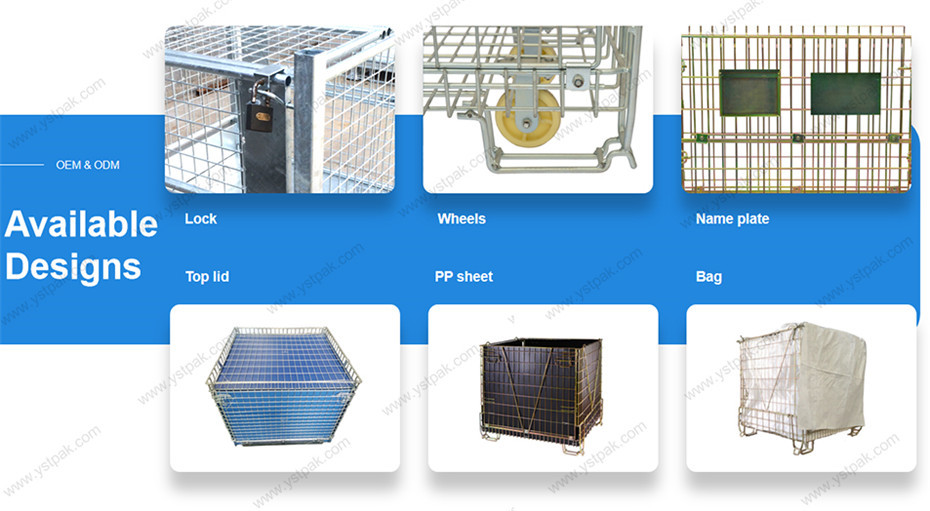 For F series storage cages, if you have any needs or questions, please feel free to contact us:
Email——sales@ystpak.com; Phone number——86-15040608276