How To Manage Your Warehouse?
Warehouse management is the process of tracking and storing products in and out of your warehouse. The goal is to know where your products are at given times so you know how to manage its level correctly. A shortage may result in breaking the customer's loyalty, while an overstocks might become a liability as to its risk of spoilage, damage, or even theft.
To remain as a reliable partner for your customers in today's competitive market, efficient warehouse system is crucial. The right system will ensure accurate and on-time deliveries between locations, while also shortening processing time within the warehouse (receiving, packing, shipping).
What exactly does 'ergonomic' mean? According to the Oxford English Dictionary, the term 'ergonomic' is used to describe the achievement of optimum comfort while avoiding stress or injury in the workplace.
Believe it or not, using ergonomic equipment will help your company regularly meet its objectives by keeping employees happy and healthy. Business owners can only do so much. The success of a business heavily relies on the health and well-being of its employees. It's amazing what reducing worker's health care and compensation costs can do for your business and the morale of your staff. Without their daily motivation, you could watch your business go in a complete downward spiral.
Using ergonomic equipment in warehouses reduces not only liability issues, but also reduces the employee's exhaustion and overall stress levels. Overworking your employees ultimately results in less productivity. Higher productivity means higher sales, higher quality of work, and less mistakes that cost you money.

There are different types of storage facilities in different industries. Here we'd like to share some with you.
Tyre Rack for Tyre Storage
If you are doing tyre business, maybe you need to have them in stock.Your choices boil down to storing them right there on the floor, or utilizing your vertical air space and saving time and cost.
Here are some important things that need to be considered when it comes to setting up your Tire warehouse and take full advantage of your building.
Bulk Storage
If you are storing bulk quantities of tires, you should always consider to maximize your warehouse by having your racking back to back. This will help you get the most out of your building. When the rack is empty, fold it, take it off the way and grab your tires from the one in the back or beside.
Staging Area – Shipping and receiving
Should be big enough to help you prepare your orders and also store the empty racks. We always try to keep at least 25 to 30 feet deep if possible. This is the key to save time on loading and unloading your trailers or containers.

Steel post pallet for fabric industry
Post pallets make an ideal safe storage and stacking solution for busy warehouses, factories, retailers and a huge range of other industries. Built with steel feet and stackable up to 4 units high, post pallets are strong and forklift-friendly, suitable for the storage and transportation of a vast variety of goods.
Post pallets are a tough and durable alternative to wooden pallets, adopting standard sizing to avoid the need to rearrange your warehouse, factory or logistics operations.
Benefits to using post pallets
Professionally-engineered post pallets will help your business to run smoothly, whilst keeping your workforce and goods safe. Easily moved by forklift, especially where forklift guide pockets are installed, post pallets will reduce loading and unloading times during transportation whilst offering a space-saving solution that allows you to increase productivity without outlay on additional storage areas.
Our standard post pallets are manufactured to a tried and tested specification, but customised features such as castor wheels, forklift pockets, extended sizes and finishing options will help to create a post pallet that's perfect for your business.
Demountable post pallets can be used for the same wide range of industries and applications as a standard post pallet. The demountable post pallet design makes a great alternative to racking and products are an excellent temporary storage and transportation option during busy periods and to handle larger or infrequent orders.
Legs are removed from the post pallet when not in use and the post pallets stacked efficiently for easy storage. Our quality manufacture and materials ensure that your demountable post pallets are always in excellent condition and ready for use when you need them.
Roll container for supermarket, laundry
Roll containers have become an integral part of intralogistics and external logistics, as a flexible and economical means of transport. They are used in various industries; whether in retail chains, delivery of fresh goods, department stores and furniture stores, laundries or courier, express and parcel services.
Roll containers provide valuable services in transport, order picking and storage of a wide range of products in all these areas and beyond. Handling characteristics are optimized with additional equipment such as intermediate shelves, tension belts, special rollers or braking systems.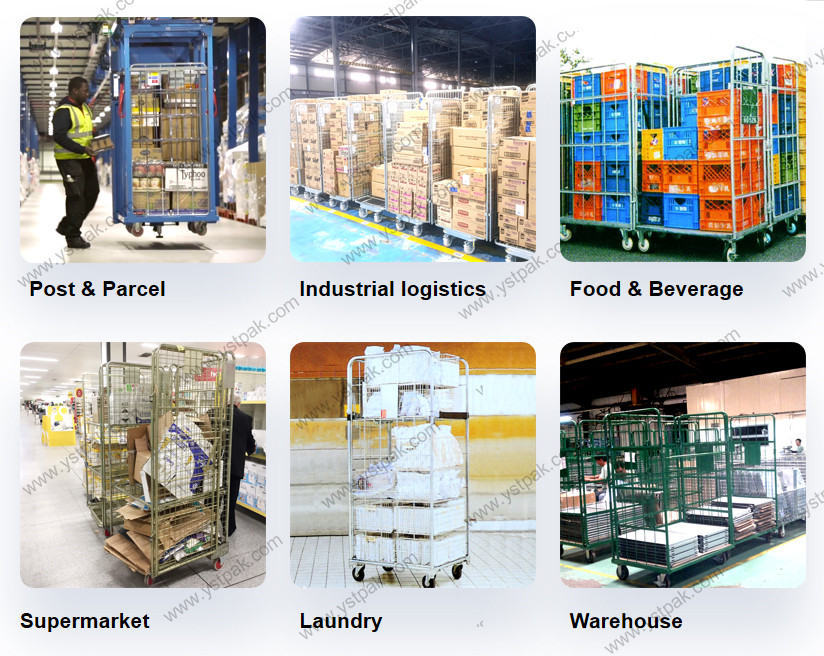 Pallet racks
Pallet rack systems offer warehouses a cost effective means of managing inventory. Pallet racks adapt any specific interior layouts which make them the most versatile form of warehouse storage equipments. Pallet racks are very easy to assemble. They are made through a computer assisted system that offers additional advantage of customising the size of your pallet rack.
Wire mesh decking is a common accessory on pallet rack.Wire mesh decking is a product that works with pallet racking to provide support, safety and other benefits to warehouse racks. Wire mesh decking are easy to install (they simply drop into place), and allow high visibility through all levels of pallet racking.
In addition to providing protection from falling inventory, wire mesh decking can improve air circulation and prevent dust build-up. Wire mesh decking can also help increase overhead sprinkler effectiveness, and many local fire codes require them instead of particle board or plywood.
Wire mesh decking options
Support Channels
On the underside of each wire deck, support channels are welded to the bottom of the mesh surface. These channels give wire deck rigidity and load bearing capacity. Typically, wire decking uses three or four support channels and supports up to 1,000kg. Step channels provide more strength than flanged channels, however each has their own advantages.
Wire Mesh
Most wire decks made in feature a 25*100mm, 50*100mm, 100*100mm. Sometimes you may see higher density grids, but these are usually made for applications that required hand stacking or storing small materials.
Waterfalls
The term "waterfall" is used to refer to the end(s) of deck that hang below the deck's surface. Waterfalls provide additional protection to wire decks by making them more resistant to coming off of the pallet rack unexpectedly. The accepted industry standard for waterfall height is 30mm. A shorter waterfall may be warranted where labels or bar codes are needed on the rack's beam face. Waterfalls can also be turned up to provide a back stop on a pallet shelf. Front and rear waterfalls can even be mixed so that one is up and the opposite is down.

Wire mesh container for PET Preform, wine, etc
Storage cabinets are made up of high-density steel. Storage cabinets offer quick access to the contents and maintain cleanliness and security, and come in different sizes.
The wire mesh container is one of the most versatile and functional storage solutions on the market. They can move up to two tons of material at one time using a forklift truck, saving an abundance of time at the workplace. One of the biggest advantages of using wire containers involves their space-saving capabilities. Not only do they safely stack four containers high utilizing wasted air space, but they can also be collapsed and folded flat to put into storage when they are not being used.
Each wire basket is coated with a zinc finish, powder coating finish, hot dip galvanized finish, could be widely used in different industries, like food industry, agricultural industry, wine industry, recycle industry, chemical industry and other industry. As long as you want to improve your warehouse, it could be suit for everywhere.
With a half drop gate that makes it easy to load and unload parts, supplies, or whatever is stored inside. They can also be customized to include casters, lids, and dividers, making them the ultimate storage solution for any type of company. Just tell us your demands, we will give back an excellent warehouse storage solution.
Warehouse storage equipment is designed for supplies, products, substances and components. Warehouse storage equipment is highly adaptive and can be used in any warehouse or factory environment.
The supplies and the equipment stored in different warehouses vary greatly. This is why a single type of storage system will not be enough for a warehouse. You would have to use different types of storage cabinets and storage systems for storing different items properly.
No matter how organized you may be, if your company's sales are increasing each year, you will eventually need a new warehouse design layout or even a whole new warehouse to relocate to. It is recommended that this space evaluation takes place about every three to five years, depending on the rate at which your company notably increases sales.
As your company's sales (hopefully) increase every year, this means space requirements in your warehouse will naturally need revising over time.
We are a professional manufacturer of warehouse facilities. Our company was established in 2013, located in Dalian, North China with 26 years manufacture experiences of security facilities, material handling equipment & welded wire mesh products. We are the global leader and supplier of world-class storage and logistics equipment. With over 10 product lines and hundred items, including stillages, roll pallets and wire mesh containers, wire mesh decking, nestainer, and so on. Supplying some of the world's largest retail and logistics companies, manufacture and export to over 90 countries annually.
We specialized in designing warehouse systems that maximize productivity and operational efficiency. We have ability to solve facility material handling and storage problems. We add values by offering the following solutions: Warehouse storage system relocation, expansion, and integration during times of growth or restructuring for manufacturing & distribution facilities. Creative design build solutions including space planning, application engineering, building permits. Our brand stands for innovative storage technology. As one of the few single service providers in its field, in the China, our company supplies shelving, container, decking and nestainer for all industries, supported direct from our 7 sales. With a 4 weeks delivery service. We are an internationally active industrial firm, currently with more than 1,000 customers, and we are one of the market leaders in China, As a traditional, medium-sized family business, we are active worldwide but remain close to our home in location and in spirit. Ever since the company was founded in 1993, our company headquarters - including our head office and our development and production facilities - has been anchored in our home region.
QUALITY CONTROL-We undertake quality control checks on behalf of our clients to ensure design and material compliance.Our QC team has over at least 23 years' experience and know clearly about roll container details. They control production strictly, from material, semi-finished products to finished products. Once problem appears, they will deal with it fast and ensure the delivery timely.We have strict inspection from raw material to finished products, please find the below process for reference.
We are committed to creating the highest quality products and
has been constantly meeting the customers' needs, if you have any demand for material handling equipment, pls feel free to contact us.
sales@ystpak.com.